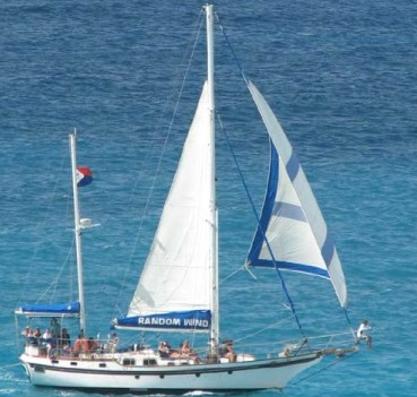 RANDOM WIND
Sailing on the Random Wind

The Best Sailing Trip

Saint Martin / St Maarten Has To Offer
Come see why Random Wind is rated the #1 sailboat trip in Saint Martin / St Maarten!
This day full of Good Times in the Caribbean Blue breaks the 'excursion' mold. We invite you to join us as we sail, swim, snorkel, eat, drink, fish and swing into the Caribbean Blue for a most wonderful day in paradise.
During your Saint Martin sailing trip on the Random Wind, you can ride over the ocean on the bowsprit, and relax in the sun or shade. This 5-star trip is not just about snorkeling, sailing, or any one thing... It is about a lovely day on the water with family, friends, and new acquaintances. It is a day you will remember for all it has to offer. It is a unique Saint Martin sailing adventure that you are guaranteed to love!
While boating in Saint Martin on the Random Wind, you can relax on three cushioned chill lounges, enjoy a Top Shelf open bar, listen to your own tunes on a great stereo system, savor a delicious homemade lunch and snacks, fly off the ALL AGES Tarzan Swing (the only one in Saint Martin!), and make memories of a lifetime, all while being attentively served by the crew of the Random Wind. Rest assured that you won't be falling over other people on the Random Wind as we typically limit ourselves to 16-18 passengers (max capacity is 22.)
Paradise Day Sail Itinerary and Pricing
While we do offer private charters and sunset cruises, our most popular sailing trip, the Paradise Day Sail is an all-day sailing trip that takes you to both the French and Dutch sides of Saint Martin. The cost of the day sail is only $109pp; $75/kids 5-12 years old; 4 and under are free. PLEASE ASK FOR GROUP RATES! We discount groups of all sizes.
During this day sail, we sail, swim, snorkel, eat, drink, swing from the Tarzan Swing, relax and socialize like you can only do on the best sailing trip Saint Martin has to offer. We meet at Skipjack's in Simpson Bay at 9:45am, check-in, and then head out to the Random Wind by dinghy. I've put a lot of detail on what a typical day sail is like, so please head over to Our Trips page to read about the most memorable experience you can have in Saint Martin.
Have you already booked your trip? Most of your questions about our trips can be answered on our FAQ.
Mention: CaribbeanWeeks.com
for any applicable discount.